North West City Region perfect backdrop for Europe's finest
The MIT Innovators Under 35 Europe event was recently hosted in the idyllic setting of west Donegal, bringing together the best and brightest young talent, who will shape our future with innovative advancements in their respective fields. While showing off the expertise of the 35 European visionaries, the event also shines a spotlight on the unique and aspiring North West City Region.
This city region is unique in many ways and not least as a city region that straddles two jurisdictions offering easy access to both the EU and UK markets. Donegal in the Republic of Ireland and Derry/Strabane in Northern Ireland make up the city region comprising of over 350,000 people and boasting a highly skilled workforce, coupled with a diverse and growing range of large multinationals who call the city region home.
The strong and effective partnership led by both Donegal County Council and Derry City and Strabane District Council has been endorsed by both Governments on the island recognising its potential to drive innovation, growth and prosperity for this unique and diverse city region.
With the MIT Festival visiting Ireland for the first time and given the level of activity taking place here, the North West City Region feels like a fitting home for the event.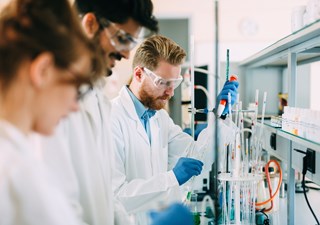 Research and Development is thriving across the NW City region
"Bringing this event to the North West City Region gives us an opportunity to showcase the impressive and supportive ecosystem of innovative businesses and organisations already present in the region", says John McLaughlin, Chief Executive of Donegal County Council.
"This region has developed into a thriving hub for global growth, bubbling with innovative start-ups and a wealth of new creative companies operating alongside indigenous businesses that see innovation and creativity as the key to their success.
"Recently, we saw local entrepreneur, Phillip O'Doherty's company E+I Engineering acquired in a deal worth $2 billion. I think it makes it quite fitting that we are hosting this event on the backdrop of this success.  In a few years, we could see one of these young entrepreneurs develop their own billion-dollar business.''
John Kelpie, Chief Executive of Derry City and Strabane District Council agrees with these sentiments saying "the recent injection of investment of £250 million under the City Deal and Inclusive Future Fund will continue to drive innovation in areas of existing world-leading research including in precision medicine, cognitive analytics, automation and robotics.  This will position the North West City Region, as a highly digitally enabled location for cutting-edge business development, expansion and inward investment.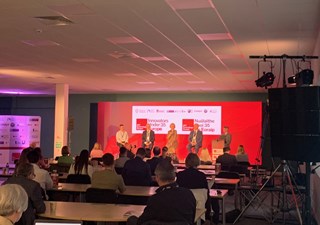 John McLaughlin and John Kelpie, speaking on the North West City Region being a hotspot for Innovation
"Collaboration is key to how we do business and we will continue to work with our stakeholders and partners including industry to promote this city region as a great place to do business and to build on our positive experiences around our investments from multinational companies such as TCS, Seagate, Randox, Fujitsu, Allstate NI, Abbott, Optum, PGIM, Sita, DuPont, FinTrU and Alchemy Technology.
"The strong momentum among businesses, government, academia and our communities to maximize the potential of the city region is being achieved through joint planning and resourcing of our strategic priorities."